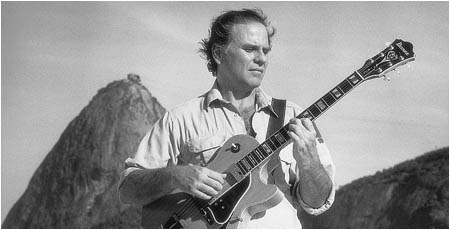 Displaying technique and sensibility in both the acoustic and electric guitar, Roberto develops nice compositions, followed by a sharp team of musicians and an excellent horn section. (Guitar Player - Issue 77)
Acoustic and electric guitarist. Composer and producer, initiated his musical education at the age of 8, by studying classical piano. After that, he tutored himself to play the guitar. He studied with Maestro Aluisio Didier and attended courses such as Pró-Arte and Villa-Lobos Institute in Rio de Janeiro. The desire to perfect and the wish to experiment different cultures brought him to Boston (USA), where he attended between 1981-1984 the world's greatest college of Jazz: Berklee College of Music. In 1983 he forms the Latin Jazz band "Samambaia", whom with he performed extensively for 2 years in Boston's night club circuit.
He returns to Brazil in 1985, and upon arrival joins the bands "Quarto Crescente" (86) and "Matéria Prima" (88). Alongside this, he performs with artists such as Peri Ribeiro, Bia Bedran, Ana Lemgruber and Clarisse Grova. He also performed several concerts with guitarists Tavinho Bonfá and Marcos Amorim, separately.
In 1990, Roberto initiates his solo career, putting together for the first time a band on his own name. His compositions become, then, the basis for the band's repertoire. The band members today are: Roberto Rosemberg (electrical and acoustic guitar), Tino Junior (saxophone, flute), Fernando Moraes (keyboards), Ênio Santos (bass), Kesso Fernandes (drums) and Dom Chacal (percussion). This sextet was the basic nucleus that recorded the album "Circular", released August 2002.
Since 1993, Roberto has been performing with a reduced group as well, the Roberto Rosemberg Trio, which became a regular attraction in Rio's main music clubs and cultural projects. The trio develops an ecletic repertoire that includes MPB, Salsa, Jazz and Blues, as well as Roberto's own compositions, having as main characteristic a highly "swingin" style.
From June 2001 to November 2002, Roberto has acted as a producer as well as a musician, being in charge of the musical direction of the Rio Design Barra Instrumental Project, which became an important divulging channel of Rio's rich musical scene.
The Musician
As an instrumentalist, Roberto divides himself between acoustic and electric guitar, displaying an economical and unique style. As an electric guitarist, his main influence is Wes Montgomery, but he names other favourites like George Benson, John Scofield, Robben Ford, Heraldo do Monte, Luis Salinas, Carlos Santana and Jimi Hendrix. Jazz also brought him taste for horn instruments such as saxophone, trumpet, trombone and etc., which came to have a crucial influence on his style.
He admires as well the work of musicians such as Miles Davis (to whom he dedicated a song in the album), Sonny Rollins, Hermeto Pascoal, Moacir Santos and Joe Zawinul.
As a composer he develops a writing style with a strong brazilian accent, mixed with influences from Jazz, Blues and afro-latin styles. His compositions blend rhythms like Baião, Salsa, Chorinho, Jazz, Afoxé, Samba, Soul, etc... The result is a creative sound that has the potential to reach a wide range of listeners due to its stylistical diversity.